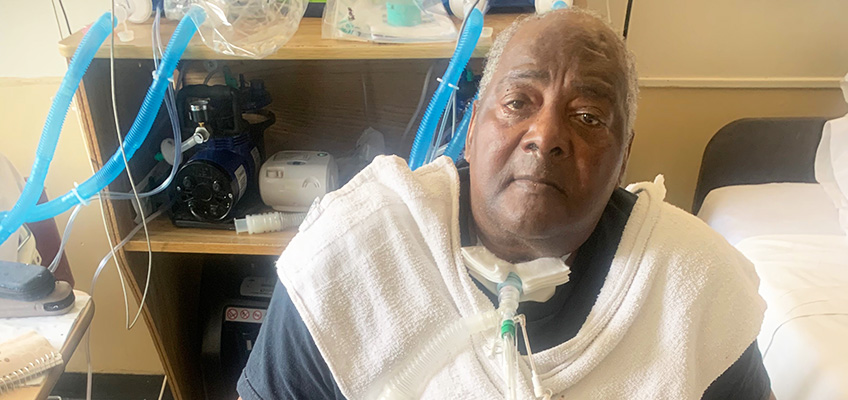 Our Respiratory Care department is active in all resident-care settings and provides services to all departments 24 hours a day. Respiratory Therapists work with physicians and other healthcare professionals in healthcare planning, evaluation, and treatment of residents with cardiac and pulmonary disorders.
They also assist residents and their families with instruction on respiratory homecare therapies and associated equipment. All Respiratory Therapists on staff at Eastchester are licensed with New York state and registered by the National Board for Respiratory Care (NBRC).
Quality Compassionate Care
When faced with the decision of placing your loved one in a Respiratory Care Unit, it can be overwhelming. You may find yourself facing uncertainties and new, bewildering questions regarding their well-being and treatment. Here at Eastchester, we strive to alleviate your concerns by guiding you through these challenging times. Our compassionate staff maintains a sense of calm, support, and understanding, keeping your loved one comfortable while keeping you informed of every step taken for their health care.
VAE (Ventilator-Associated Events)
Working in conjunction with the Department of Nursing and Infection Control, our Respiratory Care Department has developed and initiated a multi-step program for the prevention of infections and pneumonia caused by long term mechanical ventilation. This results in decreased rates of hospital readmissions and lung infections. This program is currently the only VAE Program in a Long Term Care facility in the Bronx.
University Clinical Affiliates
The Department of Respiratory Care at Eastchester is a clinical affiliate of both Long Island University (Brooklyn Campus), and Independence University. Respiratory Care and nursing students receive quality instruction and get to deliver hands-on patient care. To ensure the department of respiratory care remains the innovator in the area of vent management and weaning, projects, and research studies are conducted between respiratory professors and the Eastchester respiratory team.

In-Patient Responsibilities of Our Respiratory Care Department Include:
Airway Management Including Emergent Endotracheal Intubation & Tracheostomy Tube Changes.
– All emergency cardiac arrest codes and rapid responses are run by ACLS certified Registered Respiratory Therapists (RRTs)
Initiation & Management of All Patients Receiving Invasive & Non-Invasive (CPAP, BiPAP) Mechanical Ventilation.
– Two specialized units include a 40-bed dedicated ventilator unit and a 15-bed step-down tracheostomy care unit.
Aerosol Medication & Oxygen Therapies
Patient & Family Education
Diagnostic Procedures
– Sputum Induction
– Bedside Spirometry
– Arterial Blood Gases
– Capnography
– Pulse Oximetry
Bedside Procedures
– Tracheoscopy
– Bronchoscopy
Swallow Evaluations
– Evan's Modified Blue Dye Study in conjunction with Speech Therapy
– FEES (Fiberoptic Endoscopic Evaluation of Swallowing) in conjunction with Speech-Language Pathologist
Cardiology
– 12 – Lead EKG Testing
– Echocardiography
– Cardiac Evaluation
– Pacemaker Interrogations
Sleep Studies
– PSG Studies
– CPAP/BiLevel Titration
– EEG Studies
– Bi-level Titration Studies